Orostachys thyrsiflora Fischer, Mém. Soc. Imp. Naturalistes Moscou. 2: 274. 1809.
SYNONYMS:
Cotyledon leucantha Ledebour
C. thyrsiflora (Fischer) Maximowicz
Sedum spinosum (Linnaeus) Thunberg var. thyrsiflorum (Fischer) Fröderström
Umbilicus leucanthus (Ledebour) Ledebour
U. thyrsiflorus (Fischer) de Candolle.
DESCRIPTION:
Rosette leaves greenish, imbricate, incurved, linear-oblong, 1.5-2 cm, margin minutely dentate or entire; appendage cartilaginous, apex acute and shortly mucronate. Stem leaves linear-oblong, 4-7 × 1-1.5 mm, apical appendage cuspidate and cartilaginous, apex acute. Inflorescence racemose, 4-14 cm; bracts ovate-oblong, shorter than flowers, apex acuminate; pedicels ca. 2 mm. Sepals triangular-ovate, ca. 1.5 × 2 mm, apex acute. Petals white or reddish, basally subconnate. Stamens slightly shorter than or equaling petals; anthers purple. Nectar scales subquadrangular or suboblong, apex emarginate. Carpels narrowly lanceolate-oblong. Styles 1.5-2 mm. Follicles erect. Seeds ovoid, minute. Fl. Jul-Aug.
HABITAT:
Steppe slopes, sunny slopes on mountains; 1000-2100 m.
DISTRIBUTION:
Kazakhstan,Tajikistan, Kirgistan,  Mongolia, Russia (Altai, Ural), Pakistan (Karakorum), Tibet, China (Gansu, Xinjiang, Xizang, Tien Shan)
Chinese name: 小苞瓦松 (xiao bao wa song)
Russian name: Горноколосник пирамидальный
Differs from O.spinosa by white or ą pink, conspicuous pedicled flowers with wide triangular-ovoid sepals and carpels from approximately same length as the petals, and by the broader and looser inflorescence.
SOURCE:
Urs Eggli: Illustrated handbook of succulent plants: Crassulaceae
Flora of China: http://www.efloras.org/florataxon.aspx?flora_id=2&taxon_id=241000253
http://www.gbif.org/species/127702799
http://crassulaceae.botsad.ru/o_thyrsiflora.htm
Plant in my collection (30.6.2013) that came from German nursery. Plant originated from wild collected seed from Kyrgisztan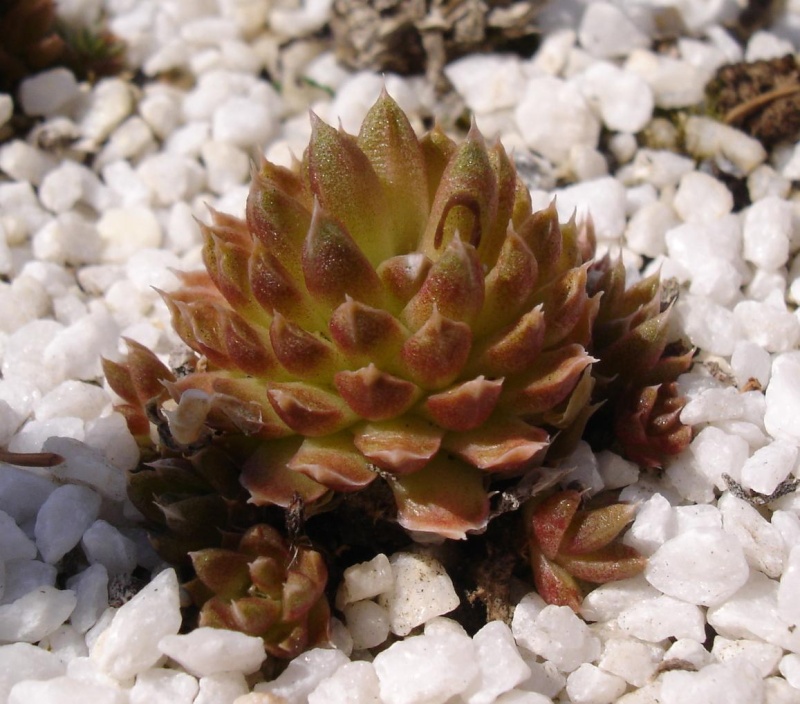 Same plant on 30.9.2013. Note the dark purple anthers.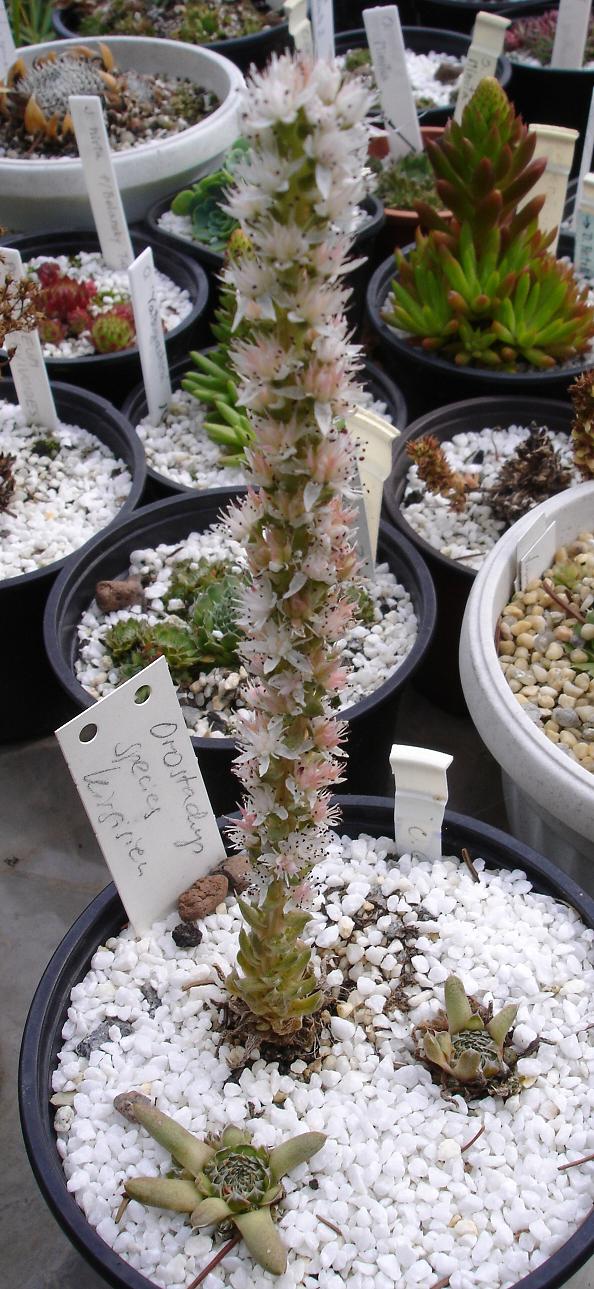 In culture, there are many plants labeled as O.thyrsiflora, but most of them are labeled wrong! True O.thyrsiflora does not produce many offsets and has purple anthers. 
Recent genetic research showed that most plants from culture labeled with this name is in fact O.spinosa. I hope our forum member who did this research could tell us more.

Marko.D

Golden Rosette





Number of plants

: 200

Posts

: 354


Join date

: 2008-10-05


Location

: Jaksic, Croatia



---
Permissions in this forum:
You
cannot
reply to topics in this forum