Sempervivum iranicum 

Bornmüller & Gauba

(

1940

)

 

in Feddes 

Repertorum 49:257 (1940)
Original Description (English translation of the Latin Description): New species – rosette usually the size of that of Sempervivum tectorum L., in particular 5-7 cm wide, but composed of much more numerous and shorter leaves, and thus more crowded – to be included close to Sempervivum schlehanii Schott,  which it resembles, due to the leaves being densely velvety on both sides; thin,very long stolons (up to 10 cm long) grow out from the base of the rosette, prostrate and finally nude; leaves of the rosettes are blue-green, of uniform colour (tip not coloured nor brownish), both below and above densely and persistently sub-velvety and minutely pubescent (soft hairs at the margin, only slightly longer, not ciliate); all the leaves (ex cept the younger inner ones, which are shorter and sharply cuspidate) are oblong and acute (neither cuspidate nor dilated at the distal part); the most external leaves are 2.5-3 cm long and 1-1.5 cm wide; flower-bearing stalk 15-20 cm long, robust, densely leafy, covered with papillae and minutely pubescent-glandular; leaves on the flower stalk up to 2.5-3 cm in length and 1-1.5 cm wide, briefly acuminate, the upper leaves only slightly shorter; at anthesis the inflorescence is compact, with three forked branches and tips of 3-6 flowers, at fructescence 3-4 cm long; flowers 12-14-meric, with patent petals 2.5 cm in diameter; the colour of the calyx is green to pale yellow, it is highly bristly and glandular, with oblong-lanceolate segments half as long as the petals (6 mm), which are linear-lanceolate, gradually becoming subulate-acuminate (2 x 14 mm), pink with generous whitish margins; the filaments are purple and approx. half as long as the petals, sparsely and lightly hairy; anthers dark-purplish; carpels 12-14, green and minutely glandularhairy, 2.5 mm long; at advanced fructescence they form a small star-shaped crown 10-12 mm in diameter (with styles spread and reflected).
Species is endemic to Alborz Mountains in N Iran. 
source:
Klaus Schropp, Sempervivums in Iran
(http://www.crassulaceae.ch/uploads/files/pdf/Sempervivum/Sempervivum%20in%20Iran%20low%20definition.pdf)
Great article, please read it!
Habitat photos of this species I made last summer near Syah Bisheh (Iran).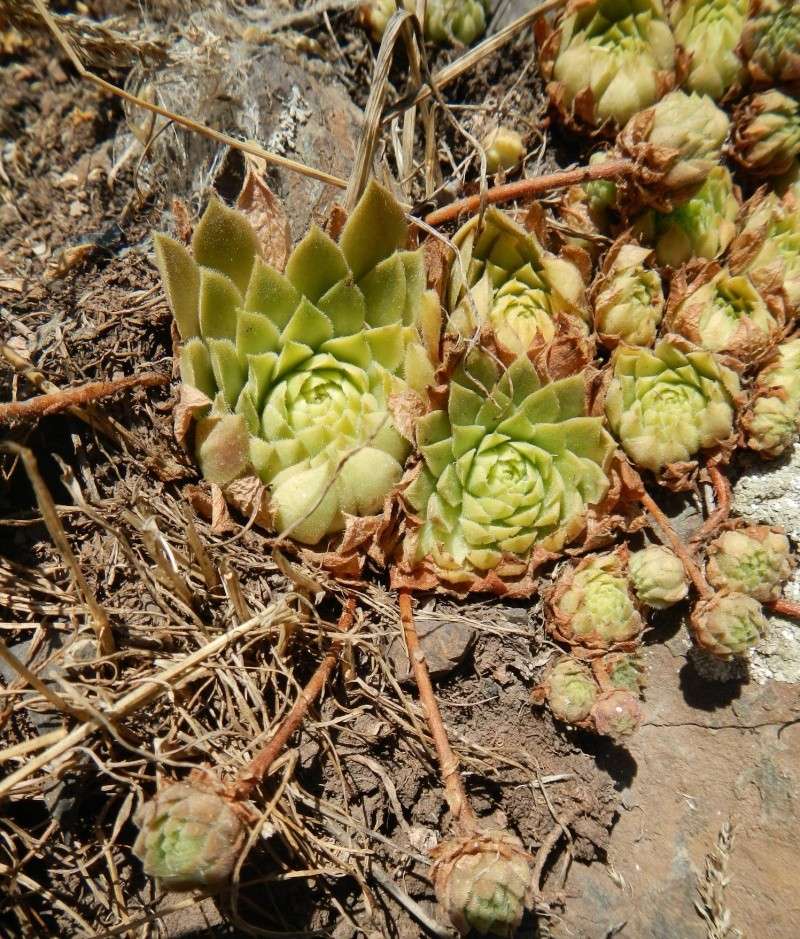 more habitat photos you can see here: https://sempervivum.aforumfree.com/t2299-alborz-mountains?highlight=Alborz

Marko.D

Golden Rosette





Number of plants

: 200

Posts

: 354


Join date

: 2008-10-05


Location

: Jaksic, Croatia



---
Permissions in this forum:
You
cannot
reply to topics in this forum