I'm the 1

Admin




Number of plants

: 2.000

Posts

: 5336


Join date

: 2008-06-14


Location

: Ljubljana, Slovenia, European Union




I'm the 1

Admin




Number of plants

: 2.000

Posts

: 5336


Join date

: 2008-06-14


Location

: Ljubljana, Slovenia, European Union



Great plant Renata!

Today is also name Prometheum aizoon (Fenzl) 't Hart widely used.

Marko.D

Golden Rosette





Number of plants

: 200

Posts

: 354


Join date

: 2008-10-05


Location

: Jaksic, Croatia



Oh, what would I do without you!??

I'm the 1

Admin




Number of plants

: 2.000

Posts

: 5336


Join date

: 2008-06-14


Location

: Ljubljana, Slovenia, European Union



Now you've put me in a pressure and i have to do it right!
Other synonyms are:
Umbilicus aizoon Fenzl (1842)
Cotyledon aizoon (Fenzl) Schönland (1890)
Sedum chrysanthum var. aizoon (Fenzl) Hamet (1929)
Rosularia aizoon (Fenzl) A. Berger (1930)
Sedum chrysanthum ssp. aizoon (Fenzl) R.T.Clausen (1975)
Umbilicus palidus Schott & Kotschy (1857)
Rosularia palida (Schott & Kotschy) Stapf (1923)
Rosularia tauricola Kit Tan (1989)
sorce:
Urs Eggli: Illustrated handbook of succulent plants: Crassulaceae
http://books.google.hr/books?id=xFz8wKRxsAIC&pg=PA205&lpg=PA205&dq=rosularia+aizoon&source=bl&ots=bxisTdeKjL&sig=T3exQ0ZeytQtFKwMh34lhmqEtvc&hl=hr&ei=jrFFTdD-JsSgOt_v1ccB&sa=X&oi=book_result&ct=result&resnum=6&ved=0CD4Q6AEwBQ#v=onepage&q=rosularia%20aizoon&f=false

Marko.D

Golden Rosette





Number of plants

: 200

Posts

: 354


Join date

: 2008-10-05


Location

: Jaksic, Croatia



Hello
The correct name is
Prometheum aizoon
. Prometheum is a small genus with 8 species.Prometeum grow in the Iran-Turkey region.
Prometheum aizoon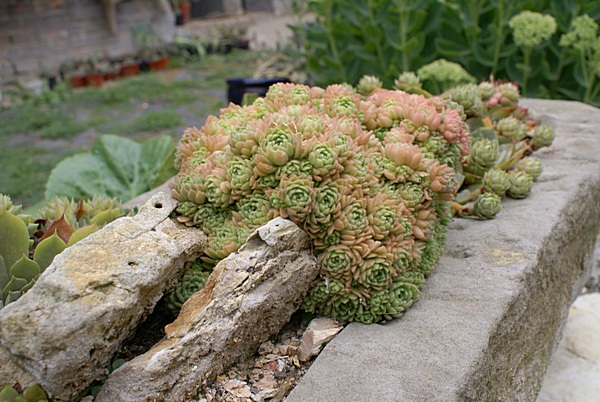 Hi, all, I received a couple of small divisions of this nice species in summer 09; I had a hard time finding information on its' hardiness, so I kept one piece inside and one out..
The indoor piece is alive, but has never done well--too little light and/or not enough water/at the right time..
Outdoors has done nicely through two long and cold winters with temperatures reaching -30C on a number of occasions, close to -40 a few times (or maybe reaching it! at least -38C), and months of temperatures -10, -20 and lower; and cool summers (even by our standards!).. So for two years at least, it has been hardy to at least zone 3, with no sign of winter stress;
I had it originally in a nursery pot with semps, but when I dropped the whole thing last summer (!) I put it in a pot by itself.. they will be going in the ground, but I'm still building the rock gardens! Pots are buried to the rim in soil for winter...


cohan

Golden Rosette





Posts

: 129


Join date

: 2008-10-12


Location

: west central alberta, canada, zone 2-3



I grow it for 2 years or so now. I first tried in the full sun, but the leaves got damaged/burned. Now I give it only morning sun, which is OK. I planted in 1:2 potting soil:white sand, in a clay pot with good drainage. It was under a roof untill recently, I watered it when I remembered, meaning several times a month. Currently it is standing in the rain because a division in the full soil is doing well also. Winter cold doesn't seem any problem (-20, had up to -35'C). The pot is not burried in the soil (was on outside window sill in winter). Problematic seems to be when they grow too dense: they start to elongate and become fragile. Then I pull everything apart and re-plant some of the best looking rosette's.



Does anyone have photo's how it grows in nature?

illustrator

Golden Rosette





Number of plants

: 100+

Posts

: 224


Join date

: 2010-08-04


Location

: Slovenia



I got it to flowering this year! I think that a very long, cold and especially dry winter was triggering it (under roof with a little snow blown on every now and them, but no watering from my side). Also now in summer I keep it dry. Rosettes grow dense but not any more elongate and fragile.

illustrator

Golden Rosette





Number of plants

: 100+

Posts

: 224


Join date

: 2010-08-04


Location

: Slovenia



---
Permissions in this forum:
You
cannot
reply to topics in this forum